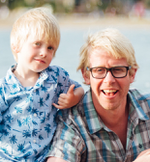 Posts: 10
Joined: Dec. 6, 2008
Depending on the length of your legs, an XL hardtail from most of the main manufacturers (like from your initial list above) will probably fit you at 6'4". If you have freakishly long legs - that is, a long inseam - then most will be too small.
I had but recently sold a Norco Torrent HT that was awesome, but turns out it was too short in the seat-tube for me and my saddle was super high out of the frame at full height. That said, the Torrent was about $2,000 brand new and is a solid bike for big guys.
If the Torrent fits you in XL and you can find a used one for sale, it's a great option that won't break the bank.