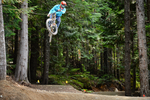 Posts: 2,882
Joined: Nov. 27, 1986
Since summer time I've been riding lots again. I dont know how i didnt ride for so many years because riding is always on my mind.
Now that it's cold n snowy I've taken this time to get back into physio to fix old injury's and train.
I find that I complain the most about having no one to ride with. I don't let that stop me from riding tho, just gets boring riding alone sometime.
I definitely miss the nsmb group rides that were arranged on this forum way back in the day.
Anyone still pushing the big bikes up fromme lol?
Edit. I just noticed how old this thread is, so many good memorys hahah.