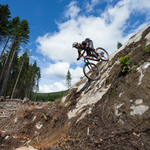 Posts: 2,630
Joined: Nov. 22, 2002
Posted by: craw

Posted by: pete@nsmb.com

Hey craw, the new XT Trail pedals seem to have a stiffer spring than the new XTR Trails. I noticed this recently while swapping between test bikes and using both sets of pedals (both new). I fired a question off to Shimano to find out if the XT Trails have a stiffer spring but haven't heard back yet. I love the XTRs and run 'em cranked all the way down and that's sufficient for me, whereas those XTs were too stiff and I hadn't even cranked them in all the way. Only slightly heavier, but cheaper = great option.

That's an ideal solution if it's true. My current pedals are XTR but I have zero issue using XT. Do you think this logic applies to DX pedals as well?
I haven't had a reply. Will ask again, and include DX. Also, keep your eyes open, the new Saint clipless pedal will be available soon - we're trying to get a pair asap for testing and spring tension is something we'll pay specific attention to.