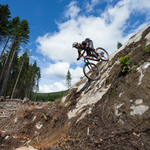 Posts: 2,631
Joined: Nov. 22, 2002
Posted by: Stuminator

Played golf & rode on the same day. Life is good. (Did a lot better on the bike, lol)
As someone who loves golf and used to pack them both into a day on a regular basis, that is good living indeed. 6 or 7 am tee time, done before noon, ride in the early afternoon and retire somewhere with a bit of sun and a beer.
Had a quick thought about the second part of your post - that you did a lot better on the bike - and that made me think 'yep, that's me too these days'. But part of that is the quantifiable nature of golf. We don't HAVE to keep score, but we always do. The bike equivalent would be to monitor your speed in real time (a la Strava premium) and judge ourselves 60+ times over the course of a ride ("you suck! what kind of line was that?", "Damn I'm fat and slow" would be 90% of the time, and every now and then: "I am the greatest rider this trail has ever seen (at least in the last hour)").
Which made me go even further down the rabbit hole. Part of the misery of golf is that we obsess with keeping score all the time, but it's not necessary in some ways - and in mountain biking, we're free to enjoy ourselves and play like kids and not worry about bogeys or double bogeys (or losing $5 on a hole). Is this an inherent advantage of a sport like mountain biking? Yes, I think it is.
And lastly, a round of golf for the average hacker can involve a lot of bogeys, double bogeys, etc. Is there an equivalent in golf? If a par is making it through a section of trail according to an arbitrary standard (fairly smooth and fast, no mishaps) then a birdie would be hitting it faster or smoother than usual, or nailing a section you don't normally expect to ride clean. But a bogey, or worse, a double bogey? A come-off, and one with consequences. 
Good thing we don't have that many bogeys on a mountain bike ride.