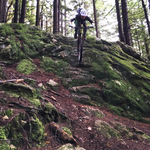 Posts: 407
Joined: July 8, 2005
FWIW I rode GSM last night, 2nd time so far. Good or bad I did not notice the point at which the tree was cut.

I did once again notice, despite having legs of lead and lungs without air, what a great climbing trail GSM is. Not certain if the sign for the rock roll was in place the first time I rode the trail or it is new, but pretty cool to have the little features named. Big shout out to the builders of GSM. Hopefully all settles down with the cut tree and we can simply enjoy the trail for what it is; a wonderfully routed and fantastically built bit of fun, that has a significant amount of suffering (at least for me).
Thanks! Glad you enjoy the trail :-)
Quick question. How much longer of a ride (time or distance) is it starting at Old Buck and taking the Old Buck to Bridle/Cardiac Bypass/Academy/RT/RTC/Lower C Buster, Penny Lane, GSM and finally arrive at Baden Powell vs climbing up Old Buck to Baden Powell, then across to where GSM meets Baden.

The first route is much more fun as compared to straight up Old Buck, but seemed to take me a lot longer and definitely had the legs feeling it (and I didn't even do a loop around Applicator or end of C-Buster and back up with R[HTML_REMOVED]R).
Ok, so being a bit of a geek, I plugged both routes into the Trailforks route planner…
From the Old Buck parking lot across Bridle, up Academy/RT/RTC/ etc… is just shy of 5 km; the traditional climb up Old Buck is a touch over 2.8 km (measured to the point where Good Sir meets BP).