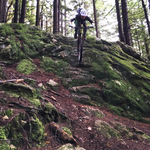 Posts: 368
Joined: July 8, 2005
well, today's posts provide some interesting reads…..

trails for all, maps and directions for those in the know…. till trailforks gets updated.
Are you expecting an instant upload of the GPS track? This sounds pretty demanding, entitled, and impatient to me.
And as a general comment…
From the NSMB Terms of Use and Rules for the NSMB Bulletin Baords…
"…you can post anything that you would like (within reason), as long as it doesn't contain the following things:
….
7.Specific directions to trails…"