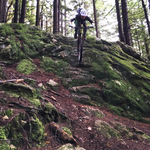 Posts: 368
Joined: July 8, 2005
We did a trip this August that I'd love to do again. For the most part we had friends to stay with the whole trip and I really recommend finding locals to show you the goods.
We rode 3 days in Kamloops, then Silverstar for a day. From there, headed to Golden. Planned to ride Mount 7 but a massive thunderstorm made us hide in the tent. Next day, pedalled up to the 10 km mark (we'd been shuttling and wanted to stretch the legs - if you can arrange a shuttle, do it, the climb was LONG!!) A woman in one of the board shops on the main drag gave us a number of a guy who did shuttles, sorry can't remember more details.
Next was Fernie. Park was fun, again, if you can meet some locals to show you stuff around town, there's some really sweet riding, not to mention beautiful views.
In Nelson and Rossland, some of the local shops run rides weeknight (Rossland was $10 for the shuttle), again, lots of trails and lots of fun.