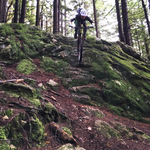 Posts: 407
Joined: July 8, 2005
Posted by: heckler

That zone under review has so far been the easiest to build new trails and features due to land-manager disengagement.  That is changing now that RSTBC is managing the land on behalf of CMHC. 

RSTBC also is newly responsible for Woodlot.   Who has seem the great permitted work @FVMBA had done with @trailslayer on Gold?  Big features, black with double black options.  See Insta for  bangers   

Is this something we as riders support?  Or should the zone be made hiking and dog walking only?      

Its also a zone directly beside Metro, who is very against difficult trails (Lola, Aftertaste - closed; Cambodia - chopped).  

Bitch about traffic elsewhere, get your feedback to RSTBC about the CMHC lands asap, survey closes soon.
Yep, for all of the land managers I've had opportunity to work with, RST is definitely the best of the bunch, though it does depend a bit on the local staff.