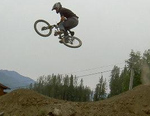 Posts: 1,351
Joined: Nov. 20, 2002
Just got back from a ride at this skatepark, great little park. It basically a bowl, except with banks instead of vert walls, although there are some quarters. In the middle there is a hip, both ways, and a few cool lines around the outside of the bowl. Definitely recommended.
I got there around 11am and there were only a few people there, but by 1pm it got super busy; so make sure to head there early.
Edit Almost forgot, there is what looks to be a dirtjump/bmx track type thing beside the skatepark, however its all covered in poly and clearly not open yet. Not sure when that'll be open….