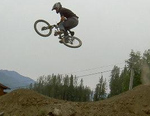 Posts: 1,351
Joined: Nov. 20, 2002
Just want to follow up and say thanks to everybody for the great advice! 
We're staying in Roberts Creek and it's been fantastic!  Trails are amazing, beach is awesome, quiet laid-back vibe, basically perfect in every way.  My only regret is that Coast Gravity is closed and won't open until after we leave - oh well, we'll have to come back another time. The local trails have been more than enough to keep me entertained anyways...
You guys are right, we don't want to leave haha.  If only I could convince my boss to let me work-from-home indefinitely.  Plus a huge raise - cost of living out here is insane, especially when compared to Calgary (although that's probably a discussion for a different thread).
Cheers!