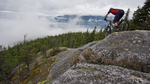 Posts: 2,452
Joined: Jan. 8, 2004
You didn't even get my mailing address. Maybe my esarc meter is broken:(

I would have no idea on wheel size, you and your team seem to be the pros at that. Whether it is done with replaceable dropouts or by picking a wheel size is SCBs call.

Mini-DH bike that I can pedal up to anything with. Turner RFX-DW prototype comes to mind (man I wanted that bike!)

Base the frame around a RC4/CCDB/CCDBA.
Bump up the rear wheel travel slightly
Shock stroke and e2e length is probably okay, but if it has to increase no worries
66-66.5 HTA based off a 170mm Lyrik or 55 fork.
STA 73 with the ability to run a full leg extension seat post. Dropper or solid, stealth routing
Lower stand over, slightly longer front centre, drop the bb slightly
I haven't run a front derailleur in 2+years, so single ring specific works good
Base sizing charts around a 50mm stem
1.5" headtube let the rider choice what they want to run/use.
73mm threaded BB/142 rearend
Post mount rear brake mounts

Keep in mind, just because you create a bike doesn't mean someone in Florida should buy it to ride there, much like a Highball with a 40t single ring and 110mm horseback stem is a poor choice for here.

Only one problem, do you call it a Nomad or a Bronson LT?
Your bike already exists, the 2013 Norco Range. I've been running mine with a 170 mm coil Vengeance and it is sublime. More capable descending than either of my old Nomads and substantially more efficient climbing as well. I'd love to have a go on a Bronson for comparison.