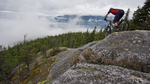 Posts: 2,452
Joined: Jan. 8, 2004
I'm going to pre-ride purely for safety. I ate it twice on stage 1 last time because I dove in blind.

Ps, Timmigrant can you please make it your mission to smash my friends on strava? That's all they talk about hahaha!
LOL … really!? I'll continue to try my best. Better yet let's go out for a ride!