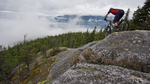 Posts: 2,452
Joined: Jan. 8, 2004
Have you watched any DH World Cups lately?
That comment is a bit like, "Have you watched Formula 1 lately?" with regards to choosing my commuter car suspension. Just because it's potentially faster for Aaron Gwinn doesn't mean its better for me. World Cup DH bikes that are mega stiff may be effective on DH tracks for sub 3 minute runs, but far from fun, and I ride my bike to have fun …. and do long descents.
Further more, air springs may work fairly well for any given track, when freshly serviced, and setup appropriately. But even at it's best, air springs are sensitive to air temperature, lack small bump sensitivity of a coil, always have an initial preload, have funky spring curves and from what I've found near impossible to get right for a wide variety of trail types. Then add in increased service intervals etc and I declare coil springs FTW … even the Endurbros are figuring it out.
I am currently air spring free and couldn't be happier.