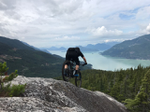 Posts: 96
Joined: Feb. 13, 2018
Posted by: Kenny

I was finding squirt got into the inside parts of my chain well but the outside would get rusty and it just couldn't seem to get the outside covered well without making a mess. Operator error I'm sure. 

Anyways I'm using wolftooth wt-1 which is a rebrand of some other lube whose name escapes me. 

Seems good.
WT-1 is the same as this stuff: https://scctech.bike
It's good. Clean, quiet and long lasting.