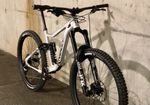 Posts: 9
Joined: Dec. 20, 2017
Posted by: grimwood

Breakdance32, I'm running the same bike as you. I went from EXO DHR2 with cushcore XC inserts to assegai DD up front. I found that while it's heavy, I wasn't paying a large resistance penalty. Definitely worth it. I had a DH DHR2 maxx grip out back. Good traction and decent rolling. I would say it was the best all around. Then I went to an assegai out back too. Definitely noticeable. Tons of traction but tons of rolling resistance. 

I can't recommend the inserts enough. They are awesome. The XC guys are super easy to deal with. And not crazy heavy.
Have heard good things about the XC inserts.. thinking of running EXO+ with xc cushcore and see how it goes.