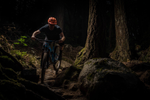 Posts: 25
Joined: June 9, 2017
Yes, trail crew will be taking the winter off. The current schedule and budget sees re-hiring some full time crew at the end of Feb/early March (the 2020 budget has not yet been reviewed or approved by the board). This was brought up during the AGM - thanks to everyone who was able to attend, and for those who had other commitments or just weren't able to be there, the presentation (incl. consolidated financials) will be out with the next eNews.
The past three years saw significant increases in the size of seasonal trail crew, and the year round trail crew (and other staff). While revenues have been increasing year over year, it isn't currently enough to maintain our level of spending (we've operated at an annual loss starting in 2017). In my opinion, the trails very much reflect this - capital has been turned into assets. While having the crew year round is amazing, its not currently a model we can afford to maintain indefinitely. 2020 will see us working to increase our volunteer leverage & engagement, along with other changes to continue to ensure the Association remains relevant, vibrant, and financially stable for the foreseeable future. And, hopefully, with continued hard work and determination, revenue will continue to grow, and we'll be able to have a year round trail crew again in the near future. Given the levels of trail use we're seeing year round now (did anyone try to park at Fromme on Sunday?!), our trails need the constant work. We'll staff up/down with additional trail crew as budgets, projects, and weather/seasonality require.
Yes, it was a record year for membership, but membership dollars are under 25% of our annual revenues (& that $ figure includes Trail Boost sales); check the AGM presentation when its released for the full breakdown. On that note, for those who missed the AGM, individual adult membership pricing is increasing to $50 for 2020. If we maintain the same number of members, and people continue to purchase Trail Boosts at similar rates, this will increase gross revenue by a bit under 5%. We'll still be the cheapest membership of the big three in the Sea to Sky (NSMBA, SORCA, WORCA) by $10. Membership isn't just about revenue, though (hence why we've kept the price lower than many comparables), the membership number is often the critical factor that is used to determine grant allocations, engage sponsors, and importantly, advocate for mountain biking with elected officials and government staff.
EDIT: I should add; if you'd like to continue to see the level of trail crew work that's been happening for the past 3-ish years, the way to do that is with your wallet, and/or time. Your dollars matter, and sponsorship dollars matter if that's a thing at your place of employment. Fern level starts at $500, which is pretty palatable for many businesses - and it includes four memberships. 2020 Memberships are for sale, Giving Tuesday is coming (and you need to sort out your tax problem anyway)... there's no shortage of ways to participate. (we've already sold more 2020 memberships than there were members in 2011)