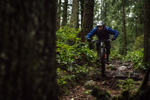 Posts: 14
Joined: Feb. 28, 2017
I think a lot of small builders are holding off on T47. For one, BSA 68/73 is perfectly awesome and then even if T47 makes sense (stiffer frame/weight) Trek is changing the standard (narrower BB shell / fatter cups) so it's more usable in mass-assembly and once they adopt it fully they'll be de facto dictators of the standard so the appeal may be lost.
Anyways, if Dekerf doesn't have cutting tools it's doubtful anyone in Vancouver+ has them.
I'm also a vote for using heavy duty sleeve retainer and just swapping bearings in PF30 cups.
May also be worth a call to Mighty Riders. One time talking to Mighty-Ed he mentioned they'd found something magical for PF install sans creaking. I didn't commit it to memory as I'm not a PF-any-size fan.