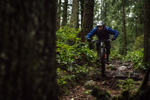 Posts: 12
Joined: Feb. 28, 2017
Posted by: Brocklanders

No one has a right to these trails, we are guests. The more these things resemble motorbikes, the further we move away from it being mountainbiking to it being a motorsport. Then who knows where it all ends up. Will we lose trail access? I guess it's up to the land managers.
My post was un-necessarily cheeky & sardonic because that's how I deal with sh*t - apologies. I have the same concerns as you, as do many people. I've already seen throttle actuated pedelecs on Seymour for example.
What is most surprising to me, that I tried to capture, is the cultural shift (adoption & acceptance) from the first big dump of snow to this spring. I feel like Rip Van Winkle. I have a number of friends and acquaintances who have gone from extolling the virtues of the self-propelled mountain bike and the local culture to explaining why their unique needs justify* an offroad pedelec.
I'm just really hoping they don't f*** it up for the rest of us. Access, keeping experienced trail builders, relationships with other users - there's a lot potentially at stake to be able to punch out a longer and faster after work lap and it definitely needs to be talked about.
*I chose 'justify' because most these folks I know seem guilty about the choice.