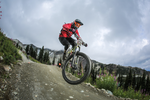 Posts: 136
Joined: Nov. 19, 2002
na I'm not saying people shouldn't ride a trail, but I do think we need to hold each other to a much higher standard about how we 'consume' not for profit natural surface trails, and I believe we should show at least a moderate amount of self restraint and not abuse them when they're new or at times when they're saturated. I know people in the s2s love them their new trails, and they love them to absolute death and then point fingers at everyone else for that impact. It doesn't have to be the reality.
Hey, I'm not an idiot, I'm just optimistic at times that maybe the mtb community can be better than it currently is....however naively misplaced that optimism may be. Personally since watching the microcrystalling of many fresh trails, I've committed to not over riding those types of trails, and not riding them at all in wet weather. I don't treat valley 'loamer' trails like the bike park, because, they aren't and someone usually not getting paid and using up a lot of their free time has to maintain them, it would be good if more people remembered and respected that.
Last edited by:
FlipFantasia
on July 31, 2018, 7:01 a.m., edited 1 time in total.