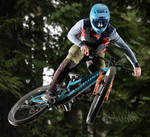 Posts: 51
Joined: Dec. 4, 2017
Sorry, I got used to calling upper aline section 1 after the entrance was closed last year.
I think he skips out the new berms and the stepup because he doesn't get enough speed or the berms are too tight, and comes out to the last few berms on crabs. 
He might also exit A-line right before the rollers into the tombstone, and ride down crabapple turns. Regardless, it scared the shit out of me when he flew by.