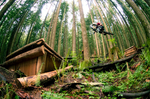 Posts: 1992
Joined: Jan. 5, 2010
Today was the toughest time I've ever had finding parking, and i waited an hour in the singles lineup, but the dirt was good and I had a great day! 
Ninja cougar to hiking crabapple and eventually out on the green trails after dirt merchant. 
Hopefully the forecast (and thanksgiving dinners) will mean shorter lines tomorrow without the trails getting too wet. I'm sticking around to ride!