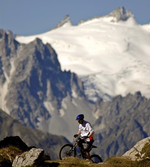 Posts: 1642
Joined: Nov. 23, 2002
So a 3hr drive from Van to get there, a 2hr? pedal to the top or a part way shuttle and then a 30-60min? retrieval at the end. Full day just to do that one ride plus a crazy descent at the end of the ridge.
Worth it?
Luck is what happens when preparation meets opportunity ~ Seneca
Last edited by:
syncro
on Sept. 10, 2021, 2:50 p.m., edited 2 times in total.