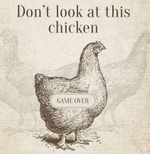 Posts: 2382
Joined: Nov. 23, 2002
Originally posted by duke
**you should see the new rungs he has for his wall ride, they are like mini train ties..

how did synchro split such large ass rungs and whered he get such good wood? thas what I want to know. **
i've been lucky with having a lot of nice wood laying on the ground for the rungs. the area of seymour i am on is like a gold mine for materials.
tons of good wood, lots of rock, easy to find gold. i probably have enough materials to build 4 or 5 trails like the one i've got going.
the only problem is that i have been picky about what i use. if i don't like the looks of something i know i can just go get more.
edit
i've always said the hardest part of trail building is gathering your materials. the act of putting stuff together is relatively easy. 80% grunt work and only 20% glamour work.
Opinion is the lowest form of intelligence. It requires no accountability, no understanding.
The highest form of knowledge is empathy, for it requires us to suspend our egos and live
in another's world. ~ Bill Bullard