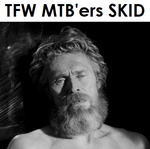 Posts: 2460
Joined: Nov. 23, 2002
ok, so i am stealing putty's idea and putting it here to keep track of stuff.
today was a cool day in the woods - lots of wind. i could totally hear it but didn't really notice how fiecre it was until i heard the trees start to groan. i looked up and the damn things are swaying back forth at least 20ft at the top. it was really cool to watch, the whole forest canopy swirling around. what was really neat was when the gusts picked up and the wind moved through the trees, the tops moved like a wave at the beach and you could watch it travel down the mtn. it was pretty wild.
got lots of stringers cut up and hauled up to where i'll be working tomorrow. recruited some help from a few guys just about to hit pingu. they were more than happy to help out and it turns out they aren't even from the shore, just up here visiting from denver. it was pretty nice of them to stop and help for 15min.
when it got dark i totally felt like i was being watched out there too. it was still windy and the odd branch was snapping here and there, making it sound like something was tracking me. spooky, esp with the mist in the trees.
Opinion is the lowest form of intelligence. It requires no accountability, no understanding.
The highest form of knowledge is empathy, for it requires us to suspend our egos and live
in another's world. ~ Bill Bullard
Last edited by:
syncro
on Jan. 3, 2021, 4:33 p.m., edited 1 time in total.