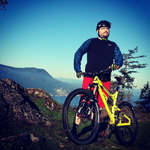 Posts: 9198
Joined: Nov. 19, 2002
Riley McIntosh and the Cowichan Trail Stewardship Society have been working hard for the past year to build some new legal trails on the island, and they are amazing! My buddy Mike D'antoni wrote up a post about it…check it out:
http://www.themountainbikelife.com/2013/11/maple-syrup-grand-opening.html
This is a major event on the island as we only have one area with legal trails the rest are pretty much unsanctioned. A huge thank you goes out to everyone involved.