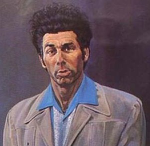 Posts: 243
Joined: Nov. 23, 2002
i've got an 8ft post/log i need to move and could use the help of maybe 1 or 2 people for about 10 minutes. if you're out riding tomorrow morning and have a few minutes to lend a hand it'll be a big help.
i'll be there starting at 9am
fyi i'm just recycling this post from before in case you're wondering about some of the respsonses/dates
I'm not a human in real life, I just play one on the internet.