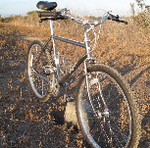 Posts: 1841
Joined: Nov. 8, 2003
I bought an Ego electric with some trepidation 2 years ago after inquiring here. It's turned out to be one of my favorite tools and has seen regular use. That and my trim router are all I need in life. (And the ashtray, the remote control, the paddle game, the magazine and the chair).
I bought the 14", they're also available in 16" and 18". The saw fits my pack comfortably and it's very lightweight at 8 1/2lbs for the bare saw. A buddy usually takes the battery separately, bit under 3lbs for the small one.
No gas fumes or spillage has been the biggest upside for me. Like eating your cake, but without gasoline splashed all over it.
It's quiet enough not to be heard at all from a distance, allowing me to leave the handsaw at home when cutting in noise sensitive areas- saving me approximately one million hours of cutting time.
I have run out of battery a couple times, but at that point I was out of drinking water and mostly delirious anyhow. I've got 4 or so extra batteries from other Ego tools if I ever decide to go all John Henry.
Looks like electric cuts as well as gas too: https://www.consumerreports.org/chainsaws/electric-dewalt-vs-gas-stihl-chainsaw-a2213179492/
Last edited by:
Hepcat
on Jan. 12, 2023, 9:07 p.m., edited 1 time in total.