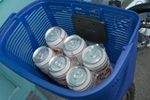 Posts: 0
Joined: Sept. 20, 2006
Figure a few of us go down and ride in the USA.
Galbraith was better than summer conditions today. Tacky goodness around every corner and lots of speed to make the jumps smoothly on unemployment. Lots of fresh work done. I've been up a few times over the years and haven't found anything I didn't like.
For those not in the know, the lower mainland rain belt often stops before Bellingham and Galbraith drains very well. Buy a WMBC map to support the area and enjoy some of the funnest riding around.
If you like a post ride brew, Elizabeth Station downtown bellingham is top notch. Hundreds of beers from around the world sold in singles, plus their own stuff on tap. There's also a wine "cellar" as well.