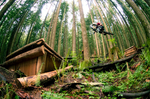 Posts: 1929
Joined: Jan. 5, 2010
Did a lap again on snakes, awseome condition.

Woodlot has a perfect progression of trails. If your learning how to jump try snakes, once you got that move to johns and once your dialed there and brave enough move onto hekyl n jekyl and then onto platinum. My problem was thinking i could ride difficult jump trails cause i could clear everything on Aline, yea, not a chance.
Are you thinking of Mandatory Caution with all the stunts that runs beside John's Trail? John's Trail seems like a big step up from Snakes N' Ladders.