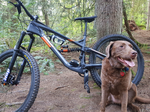 Posts: 82
Joined: March 28, 2012
Bone dry all the way to 7th yesterday. I hit 7th to Leppard to CC to Kirkford. The new berms on CC are awesome - just what that trail needs. The new swoops on Kirkford are super tight for my bike so I have to take them pretty slow but they're still really fun to ride (and definitely a nice change from the chunder chute they replaced). Who needs snow when trails are dry and perfect?

Has anyone ever tried pedalling up Kirkford or CC?
I think that it's too bad that the old line couldn't have been maintained and the new section added as an alternative line. I liked the little hit off the log.
I have been told that the trail builder thought that the old line just wasn't sustainable.
"Constant rage: could people f*cking up all the time be to blame?" - The Onion