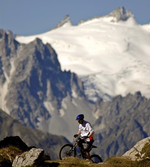 Posts: 1933
Joined: Nov. 23, 2002
to get people involved with their local trail associations?
how is it that we live in mtb heaven yet have such a problem recruiting help to run an organization that plays a huge role in keeping the trails open and running?
if people aren't willing to get dirty or donate time, why won't more of them donate a day's pay towards keeping the trails open? if you can afford to ride a two, three, four thousand or more dollar valued bike surely you can afford to donate an amount equal to say the cost of a new tire each year.
it would be nice to get some serious answers to these questions. if we can then maybe we can find a way to help move things forward.
Luck is what happens when preparation meets opportunity ~ Seneca