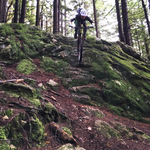 Posts: 407
Joined: July 8, 2005
Posted by: syncro

Yeah I know, but there really isn't another way to express that my own experience/views differ from yours. It's highly possible for two people to share the same/similar experience and have different perceptions of it due to many variables. Your experience is valid, but saying that it differs from the experience of others doesn't mean it's any less important. I don't see it as less important and I'm sorry if you got that impression with what I said. Considering there is a strong female presence on the NSMBA board I'm going to guess that when you say gender discrimination issue that it's related to gender identity discrimination? For the general public that's an important distinction to make, for even though there is more general awareness of LGBTQ+ identities unfortunately most people simply do not understand the topic of gender identity and often have ignorant or negative opinions about that aspect of humanity.

From the outside I think the NSMBA has been very progressive in terms of talking about the many aspects of gender identity when compared to society as a whole, and this is especially true when it comes to the mtb'ing community considering its demographics. That said, I definitely agree with you that they could do more, but I wonder about their capacity to do more. What do you think they need to do internally first to create the type of equity you feel is needed? If you don't want to make this a public issue in this forum I get it, but feel free to send me a pm as I can be an ally for you. Gender identity and Indigeneity are two social issues that are important to me and ones I'd like to see the NSMBA take on, but I know that requires people, time and money and recognize that the NSMBA may not have them to give to those issues considering their main focus of trail advocacy.
DM'd you. That's a lot of assumptions, uh, incorrect ones.