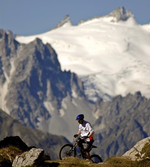 Posts: 1225
Joined: Nov. 23, 2002
What is it? What do you think it should be? And even if you don't like them, if ebikes are allowed how should they fit into the lobsterarchy, err I mean hierarchy of trail etiquette? Feel free to disagree with people's ideas but keep it respectful and say why you think something isn't practical. One thing to keep in mind as well is how trail classification may fit into things, ie climbing only, mtb only/primary, hiking only/primary, ebikes allowed, etc.
I'll start with what I think should be the basis for most interactions is that the person who would have the greatest energy output loss, ie uphill vs downhill rider, should have the right of way. The problem with this of course is it means evaluating each situation on it's own merit especially when it comes to multi-use trails. I think this is where having trail designations really helps. So say on an mtb primary trail hikers should always yield to riders, and likewise on hiking primary trails riders should always yield to riders. The same thing for ebikers, on an mtb primary trail ebikes always have to yield to mtb's and vice versa. 
The NSMBA lists 7 rules of trail etiquette, but imo it's time they were significantly updated:
The seven commandments of trail riding:
1.Ride on open trails only.
2. Respect other trail users. 
3. Respect the environment. 
4. Always stay on the trail. 
5. Ride don't slide. 
6. Pack it out. 
7. Know your limits.
Luck is what happens when preparation meets opportunity ~ Seneca