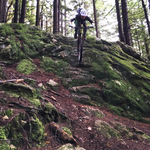 Posts: 415
Joined: July 8, 2005
Severed was originally a hiking trail, and is presently designated multi-use. It's on land owned by CMHC and managed by Rec Sites & Trails BC. It should stay multi-use, it's not a DH race course. Ride it expecting to see foot traffic and be able to stop or slow down when you do.
John Deer has same land owner/manager as Severed. It's pretty popular with trail runners (usually solo or very small groups). As one of the builders/maintainers on it, I do not support making it bike only. I do support having signs at the bottom that say something to the effect of "Warning: High Speed Bike Traffic. Foot Traffic recommended to take alternate trail" I've made this recommendation to NSMBA several times. This type of messaging provides education, and experienced hikers/runners who know the trail can still enjoy it; while others less experienced or in larger groups may choose a different option, helping to keep the trails safe and fun for all.
I'm not a fan of taking away trail access from other groups. There's a difference between a pair of trail runners or a hiker that is paying attention to the trail and steps aside to let bike traffic go by versus a large group with dogs, children, etc. or someone on foot with earphones in that isn't paying attention. But regardless, we share the trails will all other user groups. Horses are permitted on Bridle Path. As Heckler & Sanchez have said, pay attention & ride with care. Anytime we are on our bikes, we are ambassadors for our sport. How other users perceive us also influences our future trail access.
Other land managers for the trails you mentioned...
- Corkscrew - Metro Vancouver
- Pingu / Boogieman / Boogie Nights - DNV