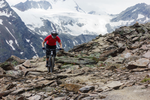 Posts: 206
Joined: June 17, 2016
I find it's mostly avoidable if you design your life so that you don't have to depend on a car and if you do want to drive, can avoid when & where everyone else is going.
With so much development of higher density housing and the roads and bridges staying mostly the same, traffic will only get worse I'm afraid. More reason to avoid driving.
I'm pretty happy with how cycling infrastructure has been improving over the last years although it's still incredibly basic compared to what I grew up with in Holland.