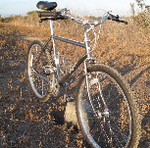 Posts: 1773
Joined: Nov. 8, 2003
Posted by: mudrunner

If only there was an invention that allowed one to listen to music in a personal way that did not have to be broadcast across the mountain and would have hi-fidelity stereo beyond what a tinny/trebley blue tooth speaker dangling from a saddle of handlebar could give...and if only it could be really inexpensive...if only there was such a thing.
In combination with headphones, maybe could hook up a fart machine or carry a bag of rocks to throw at passerbys heads, so could still be aggressively obnoxious while listening to music?
Last edited by:
Hepcat
on Oct. 31, 2022, 1:52 p.m., edited 1 time in total.