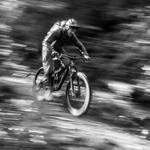 Posts: 8604
Joined: Nov. 15, 2002
i don't think people are trying to say they're perfect Cam, just promoting the message of having some consideration for other trail users - on both sides of the equation.
Hyperbole. It's a literary device.
My son, who is still in the literal stage that all boys go through, and some fail to grow out of, tells me regularly that nobody is perfect.