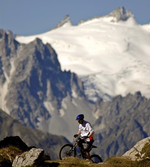 Posts: 1615
Joined: Nov. 23, 2002
Posted by: Kieran

There was an older dude riding an downhill electric v10 up the new mystic trail to the alpine in whistler yesterday. Our group (including one of the trail builders on LOTS which he'd be riding down) let him know the score.

I'm not totally against them at all and maybe when I'm older they would be a good option for me. But that was taking the piss IMO.
How is that any different from all the people who have done heli-drops up there?