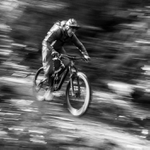 Posts: 8604
Joined: Nov. 15, 2002
If you happen to be eating a ham sandwich as you read this you may want to close this thread. In fact if you are eating anything at all or if you have eaten in the last 24 or if you have ever eaten anything at all you may want to abort.
Consider yourself warned.
When Team Shuttlewhore arrived at the water tower it became clear that the Stella support, Heineken support and particularly the Lemon Ale support were beginning to take a toll. I think Jarrett formulated the plan (please correct me if I'm wrong).
I believe he said something like "Hey Splinky twenty bucks if you ride to the 6th switchback with a sandwich where your chamois should be - call it a ham shammy." Then he added another 20 if Mark would take a bite once he arrived at the sixth. I ponied up another 20 as did someone else and Mark had 60 reasons to taste ham with fruit de loin spread. Once we everyone got there Mark rubbed his package a few times as if to make sure everything was well seasoned. Jarrett of course came up with another idea. "Hey Aaron - I have 10 for you if you take the second bite." Soon 10 became 70 and Mark was ready to take the first sample what he cooked under the hood.
Now this had everyone speechless - mostly because we were trying to avoid pissing our pants from laughing so hard. And then Aaron stepped up. Without a wince or a grimace he took a healthy bit of the sandwich that had been pressed between Mark's saddle and his package - and whatever else - for an hour of climbing. And this was three hours into the ride.
At this point we were all gobsmacked and Daryl was struggling to keep his lunch down. Welcome to the world of Team Shuttlewhore.