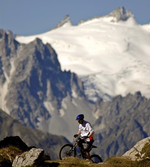 Posts: 965
Joined: Nov. 23, 2002
Posted by: RAHrider

Posted by: syncro
Having higher speed sections that dump into low speed sharp corners is what causes braiding. If a trail is designed properly, that higher speed section will taper down the speed before the sharp corner or have a sufficiently designed berm to allow riders to carry their speed through without the need to braid. You also have to consider that most tech trails were built at a time when the bikes weren't easily capable of the speeds a modern 29'er can easily hit. The bikes have changed and people are riding differently than what older tech trails are meant for.

I don't think it has to do with the trail being designed improperly as you suggest. The trail is the trail. Unless you built it or are going to go put in some trail maintenance days on it to improve it, don't go altering it. It is disrespectful. Have you ever seen a F1 car race where a straightaway leads into a tight corner? Me too. If you are going so fast that you cannot control your speed into a tight corner, you are out of control. If I rode on a trail and it was nothing but straightaways into hairpin corners, I'd just consider it a shit trail and not ride it. If I rode an exceptional trail and there was one tight corner, well that is a feature of that trail. I don't think I as a rider should be riding through the shrubs to cut off the corner because I would have to slow down otherwise. What type of asshole thinks that way? I cannot imagine just plowing through the rough, bulldozing anything that is in my way, all to avoid a corner in the trail.
You left out a key part of my post which is the fun/psychology factor that makes people do what they do. You have to consider those when it comes to trail design and I believe that fast sections that end in abrupt corners are poor trail design which inevitably lead to erosion and braids. You can't design and build a trail and not consider rider behaviour, the two go hand in hand imo. I've seen it plenty of times where I've made relatively minor changes to a trail's alignment, added a rock or trimmed back some brush and those changes have influenced rider behaviour. I like to think that for any given section of trail you need to consider what's happening 5-20m before that point. 
I love jank and tech, but those sort of sections and trails often act as barriers to less skilled riders and speed gates to skilled riders. And of course some sections of trail erode into janky goodness, whether they get left alone or fixed is a whole other huge debate. Anyway, where I see a lot of the braids happening are on less technical trails that have transitions from higher speed sections directly to tight, slow sections. What's an easier way to fix things; change the behaviour of thousands of riders or make a few changes to a section of trail that's getting blown out or braided? One can be done in a weekend, the other may never get done.