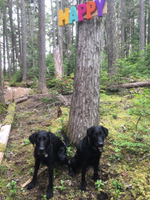 Posts: 328
Joined: Feb. 24, 2017
Posted by: FLATCH

Posted by: andy-eunson

I was chatting with a local builder the other day. He had a fat tired ebike that he motorized himself. Throttled and massively powerful. Gives him quicker access for building. But boy did he ever go off on those that ride them with no reason other than to ride more. We had been talking about his trail and the fact that riders had been cutting in at the halfway point to avoid the fantastic aesthetic single climb because it was too hard.

Do people still think that growth of the sport by encouraging folks to get ebikes is good? Or growth at all?

I'm going to assume the riders cutting in half way are on regular bikes? Certainly for an emtb this fantastic climb wouldn't be too hard. It also sounds like your builder friend is unfamiliar with the word hypocrisy.

I think in some cases a "braid" is just the natural evolution of a trail. Sometimes it could be a ride around and other times it is just a better line that was simply missed when the trail was cut.
The ebike is for getting to the build area with tools and for saving energy for the build. No hypocrisy at all.