Some riding from here in AZ!
That was awesome. Thanks for sharing.
Posts: 14440
Joined: Feb. 19, 2003
High on my riding trip list!
Posts: 13934
Joined: March 15, 2003
perfect vid to start my day. :beer: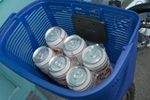 Posts: 0
Joined: Sept. 20, 2006
Was there last week! Super fun riding on South Mountain, in the middle of Phoenix.
I'm headed there with my brother and family in April. Anyone know where the best place in Sedona to rent some bikes and get directions to some good riding is?
Posts: 3040
Joined: May 31, 2004
Well I guess since everyone else is going there..
Nice vidder
I'm happy to get outside and enjoy nature while I can, but I fear for the future of humanity
Posts: 783
Joined: Nov. 21, 2002
Just back from 8 nights in Sedona..it snowed the last day!!!!
Once again, premier MTB town imo.
Lots of trail sign improvements from last year.
Go here for John's maps. Excellent resource.
Red rock + trees + trails + locals brew pub http://www.oakcreekbrew.com/oakcreek/home.php = top times
Allegiant Air flies from Bellingham to Mesa for $60-80 each way.
Bikes fly for just $25 each way (if you fit them into an 80" box (tip - take fork off))
Rent a car or grab a shuttle, and ride..drink..repeat
**http://www.mountainbikeheaven.com/

Not sure if they rent bikes. It was where I went to meet locals to ride with every morning I was there.
**
Cool I'll check it out. I know there was one bike shop right in town where I stopped by the one day I was there with my wife a few years back and they were really nice folks there. Think it might have been this place.
Posts: 1036
Joined: Aug. 10, 2003
Pretty sure MTB Heaven closed down. At the very least, Over The Edge Sports opened up in their location back in September. (Great shop, also has locations in Fruita CO and Hurricane UT). Not sure if they rent bikes yet though.
If you want to rent an Ibis Mojo HD talk to Canadian Dave at Fat Tire Bike Shop http://www.thefattire.com/ or http://thelazyrando.wordpress.com/2009/03/05/the-fat-tire-bike-shop-sedona/. Very knowledgeable, friendly. Or if you prefer Santa Cruz Bike n Bean in Oak Creek rents those.