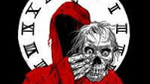 Posts: 3469
Joined: May 23, 2006
Whoa! Baby! What a rant! Re-read my post. I'm not suggesting dumbing down the gnarl just adding options for those less courageous, eh?
Edit: yeah buncha' hot sweaty chicks on bikes would be preferable to, well, just about anything, eh? :clap:
Freedom of contract. We sell them guns that kill them; they sell us drugs that kill us.