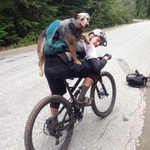 Posts: 20
Joined: April 23, 2008
The province has created a trails strategy survey with regards to trail maintenance, funding, development, user conflict and their vision statement.
https://feedback.engage.gov.bc.ca/355168?lang=en&fbclid=IwAR1DfY0o7Fc71liniBvLUBX42uMQJJ_lOeyrH-DI2Xv6lfwsUg_AdwZXmIM
"In 2019, the PTAB (Provincial Trails Advisory Body), in collaborations with Recreation Sites and Trails B.C., began a process to complete a formal review of the Trails Strategy for B.C. to ensure the continued relevance and importance of the Trails Strategy to recreationists, communities, First Nations, tourism proponents and the province as a whole.
This work will include:
Talking to key stakeholders from across the outdoor recreation sector and government,
Gathering information and feedback from a variety of trail users throughout the province,
Researching literature on the importance and value of trails,
Identifying trends in trail usage including challenges and benefits, and;
Determining the status of implementation of the Trails Strategy's 22 Action Items."