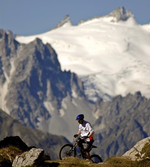 Posts: 1927
Joined: Nov. 23, 2002
It looks like the businesses and owners at Parkgate have had enough of mtb'ers using their lot to park while they ride and for post ride hang-outs. They're going to start towing fairly soon so people will need to find a different place to park. TBH I'm surprised this hasn't happened sooner, especially considering what the lot can be like on a sunny weekend.
Luck is what happens when preparation meets opportunity ~ Seneca
Last edited by:
syncro
on May 29, 2021, 2:43 p.m., edited 1 time in total.