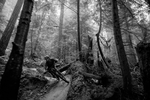 Posts: 79
Joined: June 9, 2017
@switch, as I'd guess you're aware, BP is the only trail between Mt Seymour Road and Indian River Drive mountain bikes are allowed on. And that stretch of BP is currently closed to all users because its in Seymour Provincial Park.
If riders are saying there's no signage about riding trails in that area (even when the park is open) they're either fibbing, or experiencing periods of blindness they should discuss with a doctor, as it sounds hazardous to have happen while mountain biking.
I'd also suggest that whoever is throwing my name around over there is either doing so in jest, or to be harmful. Hopefully its the former.