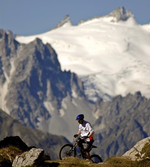 Posts: 1926
Joined: Nov. 23, 2002
ok, so i'm really trying to wrap my head around this having been involved in the process for a while now and even going well back to before there was a formal permit process and discussions on allowable work with the land manangers were done on a face to face basis.
it doesn't make any sense to me that the dnv would give and then rescind permission for certain aspects of trail work, they simply don't operate that way. the only thing i can imagine right now is that this work was unsanctioned and put in without permission from the DNV. this strikes me as odd as the nsmba and it's build team are very aware of the permit process and the steps they need to go through in regards to new work including lines and structures.
i hope this doesn't mean that other work they've been doing recently has been unsanctioned as this could jeopardize the working relationship the nsmba and independent trail builders have with the land managers. i would hate to see that happen after all the work that has been put in to building a relationship with the land managers over the past 20 years or so.
Luck is what happens when preparation meets opportunity ~ Seneca