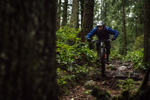 Posts: 13
Joined: Feb. 28, 2017
Gentlepeople,
The entrance to 7th Secret smells like the un-serviced port-a-pisser at a week long asparagus growers convention in August. 
In other words, its f*cking disgusting. 
Obviously there's a need to answer nature's calling in nature but let's spread it out it a bit please. 
It is not hard to jump in the bushes at the 6th or ride up around the 7th and as an added benefit to a piss-smell-free trailhead you won't flash unsuspecting fellow trail users your sweaty junk. 
Please ask your friends to urinate sociably when urinating socially.
Thanks,