MEC Bike Service Experience
Posts: 18134
Joined: Oct. 28, 2003
someone's been walking on my keyboard. Daryl!
Posts: 0
Joined: Aug. 8, 2004
make sure your better half can do all of this for you while you drink beer and offer moral support!
you my friend have got it figured out.
Posts: 2312
Joined: April 2, 2005
that's one of the reasons why online shops are so popular over here ;)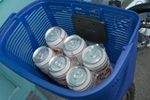 Posts: 0
Joined: Sept. 20, 2006
MEC is the worst. I know what that guy is looking for, even though it's obscure.
Posts: 0
Joined: May 1, 2006
Then, even better, they ordered the wrong ones, and I had to "customize" them to fit, cause they wouldn't take back a special order.

can't wait to buy some RF bars at MEC.
If and only if it was written on the order the proper description and product you asked for then theirs no way in hell you should be stuck keeping the wrong parts. I had that argument several years ago with wrong parts ordered by the shop and they tried to have me take them. I had my copy of the order with the right parts written up on it and simply told them I was not going to pay the balance and someone else was going to be contacting them on the issue. After that said I got my deposit back and they offered to order the parts I originally had asked for but instead I walked out with my money and went else where.
You can get this happening just about anywhere, depends if the village idiot is working or not that day.
Posts: 0
Joined: Aug. 12, 2007
A fixie chainring bolts onto the ISCG mount. Everyone knows that.
Posts: 0
Joined: May 26, 2006
I dunnop, perhaps you can get the same issue at an LBS but I haven't.
what gets me about MEC is, in my experience, the consitent "holier than thou" attitude from the staff. I can't stand that.