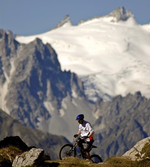 Posts: 1902
Joined: Nov. 23, 2002
Neither you nor I own the public forest, so unless it is private property, one shouldn't get uptight about others enjoying the outdoors, IMO.

Keep it real, NSMB - you always deliver!
you mean keeping it real like telling someone else how they should feel about changes to their trail work? i'm fine with you saying this wouldn't have bothered you and some seem to feel this is a good attitude to have. i don't necessarily disagree with that, but do you honestly think it's your place to tell the builder how they should feel about it?
the alternative to that is people can go out and do whatever they want to whatever trail they want. is that want we want on the trails?
Luck is what happens when preparation meets opportunity ~ Seneca