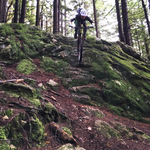 Posts: 374
Joined: July 8, 2005
This is a picture taken while we were building Good Sir Martin. The small arched (live) tree above the trail was left in place; we raised it higher to ensure it would be easy for riders/hikers/runners to get underneath it. It added a nice aesthetic. It's not a high speed section and there's good sight-lines coming into it. We liked it :)
Someone took it upon themselves to remove it. With a saw. In the process, they also uprooted a stump on the side of the trail. :(
Please do not "fix" a trail like this. It shows a lack of respect for the builders. It takes away from the beauty of the trail.
If you see something that needs repair, please report it on Trailforks.
http://www.trailforks.com/contribute/report/
We get notifications when someone submits a report and we can address the issue.
Thank you!