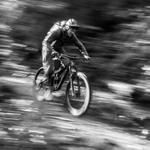 Posts: 8605
Joined: Nov. 15, 2002
Hello,
I just saw a video of a mountain biker chasing a herd of horses on an NSMB.com web site. Are you nuts?
We all know that youth who mountain bike are very impressionable and the media is a very powerful tool.
We have a demographic of thousands of young people who ride mountain bikes and who may now imitate this behaviour thinking what a thrill it is.
I have always known that mountain biking is destructive to the biodiversity and ecology of our coastal rainforest, I now know also just what kind of people you really are. Those horses were riding on a hillside and were obviously frightened by the mountain bikers, and could have caused an injury to a horse. Duh! When a horse breaks his leg it is euthanized.
I don't know who the rancher was, but if he did give you permission, he should be reported to the SPCA.
I have never seen such irresponsibility!
Believe me, I will be sending this one everywhere. Congratulations Mr. McCrae, you have just given mountain bikers a worse reputation in this community than they have ever had before.
Shocking!
Elise R---